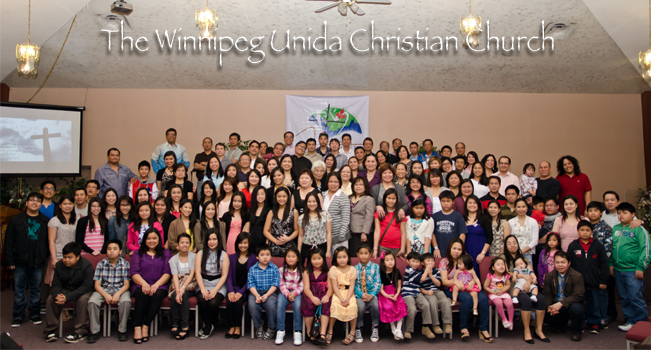 WINNIPEG UNIDA CHRISTIAN CHURCH STATEMENT OF FAITH
WE BELIEVE
1- …that the Word of God is the Bible, written by God and given to us without error and is sufficient to reveal who God is and what He requires of us for our eternal happiness.
2Tim 3:16-17; Luke 16:31
2- …that God exists eternally in three Persons – the Father, the Son, and the Holy Spirit.
1John 5:7; Mat 28:19; 2Cor 13:14
3- …that God created the world in the space of six days and all for His glory.
Col 1:16; Gen 1:31
4- …that God created Adam and Eve in His image and that the sin of our first parents brought the rest of mankind into a state of sin, misery, bondage, and condemnation.
Gen 1:27; Rom 5:12
5- …that God's law shows us who God is, what He requires of us, and, due to our sin, condemns us all.
Rom 3:20; Rom 7:7; Gal 3:24
6- …that our perfect obedience to the law of God is both impossible and insufficient to earn us a right standing with God.
Gal 3:11
7- …that God has revealed the only way of salvation from our sin in the gospel of our Lord Jesus Christ.
John 5:24; Rom 10:9-10
8- …that the Gospel was first revealed to Adam and Eve and then progressively revealed in the Old Testament until it was fully revealed in Jesus Christ in the New Testament.
Gen 3:15; Heb 1:1-2
9- …that Jesus Christ is fully God and fully man, the unique Mediator between God and man.
John 1:14; 1Tim 3:16; 1Tim 2:5
10- …that Jesus Christ perfect obeyed the law of God for us and died under the wrath of God for the forgiveness of our sins.
1 John 3:4-5; 1Pet 3:18
11- …that Jesus Christ rose from death for our justification and ascended into heaven to sit at His Father's right hand.
1Cor 15:3-5; Heb 10:12
12- …that the salvation purchased by Jesus Christ is brought to men's souls by the preaching of the gospel by the power of the Holy Spirit.
Rom 10:14: Rom 10:17
13- …that justification comes to us by faith alone, and is based on the righteousness of Christ and not based on anything in us.
Eph 2:8; 2Cor 5:21
14- …that faith is God's gift to us by His Spirit, and all believers in Christ are justified, adopted, sanctified, and glorified by grace alone.
Eph 2:8; Rom 8:30
15- …that the Church of Jesus Christ is the community of all true believers.
1 Cor 1:2; Eph. 1:20-22
16- …that believers are brought into the local church by water baptism, which is for believers only.
Matt 28:19-20; Mark 16:16; Acts 8:36-37
17- …that the church is responsible to teach baptized believers all that Christ commanded them.
Matt 28:19-20;
18- …that the church is responsible to provide public worship where prayer, singing, Scripture reading, preaching, discipline, baptism, and the Lord's Supper are to be conducted.
1 Tim 4:13; 1Tim 3:15; Eph 5:19; 1Cor 11:23-25
19- …that Sunday is the Lord's Day, the day of public worship for Christians and rest form our normal labors and activities.
1 Cor. 16:1-2; Acts 20:7; Rev. 1:10
20- …that each local church is to be self-governed by its elders under the Word of God.
1Th 5:12; Heb. 13:17
21- …that each local church is called by Christ to spread the Gospel to others throughout the world.
Matt 28:19-20; Mark 16:15
22- …that the souls of believers who die before Christ returns enjoy temporary joy and satisfaction with Him in heaven.
Heb 12:23; Phil. 1:23; 2 Cor. 5:1,6,8
23- …that the Lord Jesus Christ will return to this earth a second time in glory to judge the living and the dead.
Acts 17:31; Rom 2:5-8; John 5:22; 2Cor 5:10
24- … that the bodies of believers will be resurrected when Christ returns at His Second Advent.
1Th 4:16; John 6:39, 40, 44, 54
25- …that all who reject the Gospel in hardened unbelief will suffer eternal, conscious punishment in Hell in both body and soul.
Mat 25:41-46; Mat 13:41-42; Rev 20:15
26- …that all those who believe the Gospel will not suffer condemnation but enter into the new heavens and the new earth in body and soul to enjoy eternal, joyous communion with God and other believers.
Vision Statement
A serving and caring church faithfully proclaiming Jesus Christ as Lord and Saviour and commissioning every believer to make disciples of all nations.
Mission Statement
Glorify God by equipping the church in reaching and serving people with the Love of Jesus Christ by the Power of the Holy Spirit.
Winnipeg Unida Christian Church History
1980s – a dream began for the establishment of Unida church here in Winnipeg.
2008 – During an international conference held in USA, Rev. Benoni Hernandez who at that time the General Treasurer of Unida Church; expressed the desire to start an international mission. This desire was mentioned to the Unida that migrated to Winnipeg.
2010 – Bishop Edgardo Marquez and Rev. Ruel Camia, expressed their vision of planting Unida church in Winnipeg.
Early 2011 – As a result of continous communication between Resty Atanacio, Bishop Edgardo Marquez and Rev. Ruel Camia, General Superintendent Rev. Benoni Hernandez has decided to formalize the intent by writing a letter for the establishment of the Unida church in Winnipeg.
The first assembly of Unida Members was held on September 9, 2011 at 62 Huber Street and was attended by the following families:

Atanacio, Apolinario
Atanacio, Resty
Atanacio, Andy
Genido, Dante
Relleve, Eric
Abraham, JP and Pet
Saria, Glenn
Cruz, Manuel
Sarreal, Ramil
Genido, Pete
Herrera, Arnel
Sarte, Louie
Atanacio, Fedie
Herrera, Arcee
Eugenio, Ver
Leyba, Lei, Lyn and Nita
Genido, Neneth
Accad, Eric

By God's grace, Winnipeg Unida Christian Church was established, Making it the first Unida Church outside the Philippines.
September 11, 2011 – another meeting was held to appoint an interim council and on that day the name Winnipeg Unida Christian Church was reserved and acknowledged by Companies Office of Manitoba.
September 16, 2011 – The  Deliverence Centre opened their door to Winnipeg Unida Christian Chuch as a temporary place of worship.
September 18, 2011 –  A community of faith, the Winnipeg Unida Christian Church started their first worship service. Speaker: Rev. Ed Capillar, Liturgist: Glenn Saria, Attendance: 84, offering: 1,825.00 + 40.00 US. The 4 Unida Generals sent their video greetings. During the service, nomination for an Assistant to the Pastor was held, the nominees are:

Resty Atanacio
Glenn Saria
Manuel Cruz
Jason Abraham

September 21, 2011 – a letter of invitation was sent to Rev. Ruel Camia.
September 25, 2011 – The first Assistant to the Pastor was chosen using an Unida tradition by casting of lots and Jason Abraham was chosen.
While the church is still waiting for an administrative pastor from Unida Philippines, the following pastors served as guest speakers for the succeeding worship services:

Rev. Eduardo Capillar
Pastor Rod Crispin
Rev. Ed Ramos
Rev. Mario Gundayao
Rev. Fred Velasco.

September 27, 2011 – The Companies Office of Manitoba approved the incorporation of Winnipeg Unida Christian Church as a non-profit corporation.
October 2, 2011 – First council meeting was held, 6:00PM at the Deliverance Centre Church.
January 13, 2012 –The General Evangelist of Iglesia Evangelica Unida de Cristo, Rev. Ruel Camia arrived in Winnipeg, as the first Minister of the Gospel for Unida mission outside of the Philippines.
As the church continuous to grow in its activities.

October 15, 2011 – First Bible study, held at Dante and Ading Genido's residence.
October 16, 2011 – Sunday School classes started.
October 23, 2011 – The Children's choir's first song offering.
November 19, 2011 – Kalalakihan's coffee fellowship started.
November 25, 2011 – Youth fellowship
February 5, 2012 – WUCC Choir.

The Winnipeg Unida Christian Church will continue to grow in faith, character and wisdom through:

Evangelism
Worship
Discipleship
Service

To God be the glory.